Marcelle Weed
One of the early proponents of New Games is Marcelle Weed. Marcelle graciously lent her experience and professional reputation to help establish the validity and viability of New Games in the recreation field. Her contacts in with the Oakland Parks and Recreation Department and other agencies in the East Bay opened the door for many of the initial New Games events and trainings.
I was lucky to have been able to work with Marcelle at several New Games trainings. It was always a joy to be with her as she shared her expertise and energy with her fellow trainers, attendees, and players.
Kenneth Leary was kind enough to share some of his memories of Marcelle.

"Marcelle Weed worked for the Oakland Office of Parks and Recreation (OPR) as a Recreation Supervisor for training. She held a core belief that play is an important aspect of our quality of life and the development of the human spirit.
Marcelle demonstrated these principles as the training supervisor and in her daily life. Among her many positive attributes were intelligence, caring, and kindness. She also had the ability to get things done—and if need be—with a ferocity.
Marcelle and Sue Sunderland, also a Recreation Supervisor for the OPR, were important in the introduction of News Games to OPR and to the California Parks and Recreation Society which was important to the growth of the new play philosophy, Play Hard, Play Fair and Nobody Hurt. Marcelle and Sue were instrumental in how I became involved with New Games. They took up a collection to send me to one of the first trainings."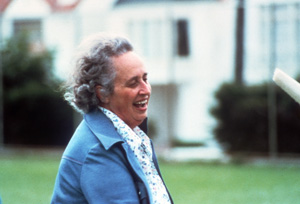 Marcelle Weed (image from Slide 152 in New Games Slide Show)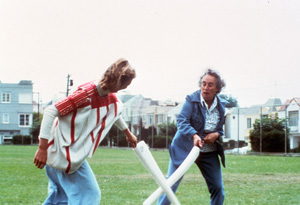 image from Slide 153 in New Games Slide Show
Marcelle Weed is the narrator at the 22:05 mark on the New Games Slide Show.